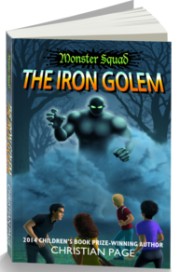 Christian Page, author of The Iron Gollem, kicks off his book tour in Seattle on April 16, 2015.
Bountiful, UT, April 15, 2015 (Newswire.com) - "Monster Squad: The Iron Golem" is the debut book from new author Christian Page, which has received rave reviews from journalists and readers alike.  Available as an eBook and paperback (296 pages), the book was published by New Generation Publishing in November, 2014. 
Aimed at the young adult / mid-grade audience, it was named winner of New Generation Publishing's 2014 Children's Book of the Year Award. 
"Monster Squad: The Iron Golem" is the first in a planned four-book Monster Squad series, with the second book, "Monster Squad: Jekyll & Hyde" planned for release in Spring 2015.  Page is currently writing a third standalone book called "The Unseen". 
Christian Page will kick off his book reading and signing tour in Seattle on April 16th. He will be visiting the following locations in-store at the dates and times listed below. He will also be available for interviews and appearances.
April 16th, 2015 at 6 PM – Merryweather Books
April 17th, 2015 at 5 PM – Twice Sold Tales
April 25th, 2015 at 4 PM – Mockingbird Books
Media inquiries can be directed to Blair@MediaMogulsPR.com ​
ABOUT THE BOOK – "Monster Squad: The Iron Golem"
Dark forces are converging on the sleepy town of Autumn's Hallow.
Monsters in the woods, mad scientists on the loose and sinister minions lurking in the shadows. Four young friends must band together to uncover a secret plot that threatens them, the town they live in and the people they love.
Meet Blaine, Dash, Shelley and Drake, aka the Monster Squad.  These four friends have just found out they are the heirs to fantastic powers, and an evil mad scientist wants them for lab rats... and, oh yeah, they each have ten pages of Algebra homework due on Monday.
Using smarts, courage and friendship they will battle the nefarious Victor von Frankenstein and his mutant freak show in an exciting new award-winning series!
ONLINE MEDIA
http://www.chrispagewriter.com/
Book Trailer: http://youtu.be/sNouaKK10-s
Amazon: http://www.amazon.com/Monster-Squad-The-Iron-Golem-ebook/dp/B00Q3W5WAC
CRITICAL QUOTES
"A young adult novel bursting with re-imagined yet familiar literary characters, outrageously exciting action, and witty dialogue... Highly recommended for fans of: Rick Riordan, Neil Gaiman's middle-grade work, and Trenton Lee Stewart and Carson Ellis…"
-- Blue Ink Review
"The book is well-written and briskly paced; the author is clearly having fun, and the story reflects it... Young readers will likely enjoy this nostalgic monster mash…"
-- Kirkus Revie
"The Iron Golem is well-paced and exciting. The characters are easy to like and relate to and the scenes are well-written and descriptive. The vocabulary is just challenging enough to be good. This is one of those books that you can read to your children and enjoy, rather than endure…"
-- Karin MN (Amazon)
"…The action is non-stop, and the writing is very tight, suspenseful, even gripping in some parts, and inventive, definitely creative. I wouldn't be at all surprised to see it made into a movie…"
 -- TheStubbyPencilReviews.com
ABOUT THE AUTHOR
Christian Page loves stories that combine fun, action and adventure. A father of two, he lives in the Pacific Northwest of the United States with his wife, son, daughter, overly plump cat and under-behaved dog. You can visit the author to learn more about his stories and upcoming work at www.chrispage.com or follow him on Facebook (Chris Page) or Twitter (@chrispagewriter).
Share: