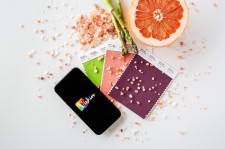 Judging panel announcements have been made for the Vishion Design Award. The award celebrates color in interior design and encourages recognition of the craft of the interior designer.
CHARLOTTE, N.C., December 18, 2019 (Newswire.com) - Vishion, a Charlotte, NC-based interior design startup, recently announced the panel of judges for the upcoming Vishion interior design award. The award will recognize designers who showcase a passion for incorporating complex color palettes in a single space design across textiles, materials, space planning and staging to appeal to our emotions.
The Vishion mobile app launched earlier this year, giving designers the ability to use their preferred Pantone color swatches and Sherwin-Williams colors to guide their decor search and store their favorite palettes.
The Vishion Design Award judging panel will consist of the following judges:
Submissions are open Nov. 15, 2019, until Jan. 17, 2020, and winners will be announced in February 2020. Judges will assess entries across the following criteria:
Color palette complexity: How has a complexity of color been utilized in the design.

Quality: Overall level of craftsmanship and skill.

Creativity & innovation: What design challenges did the designer have and how did they address them?

'Wow' factor: Is the design stunning?

Personal story: Why the entrant became a designer and why design is important to them.

Social sharing and engagement: Was the designer able to garner social support for their design?
The grand prize winner will receive a cash prize of $5,000 USD, in addition to a feature on the Vishion blog, PR promotion, and media coverage.
Vishion chief marketing officer, Bryan McCarter says, "The Vishion Design Award is built around how designers use a complexity of color in their designs. Developing and executing against complex color palettes is what the Vishion app does best and this competition will help make the connection between how the Vishion app can aid designers in their work related to color palette development and design execution."
About Vishion:
Vishion is the only color search engine to help interior designers and design lovers find decor across brands. Founded in 2017, Vishion is a Charlotte, NC-based startup pioneering color search. For more information, visit vishion.co. Join Vishion on Facebook, Twitter, Linkedin and Instagram.
Contact
For additional information about this release, please contact
Bryan McCarter, Chief Marketing Officer
bryan.mccarter@vishion.co
Source: Vishion
Share: